Machine spec. 4.500-25.000 kN
Shibaura Machine offers 9 different clamping forces in the range up to 25.000kN. Each version comes with matching panel dimensions and injection units. Every injection unit will fit 2 screw diameters.
Listed below are the various models by Shibaura Machine (formerly known as Toshiba) available. If you have any questions or are having trouble finding specific information, please do not hesitate to contact us. We will be more than happy to assist. *Actual product appearance may vary.
Contact us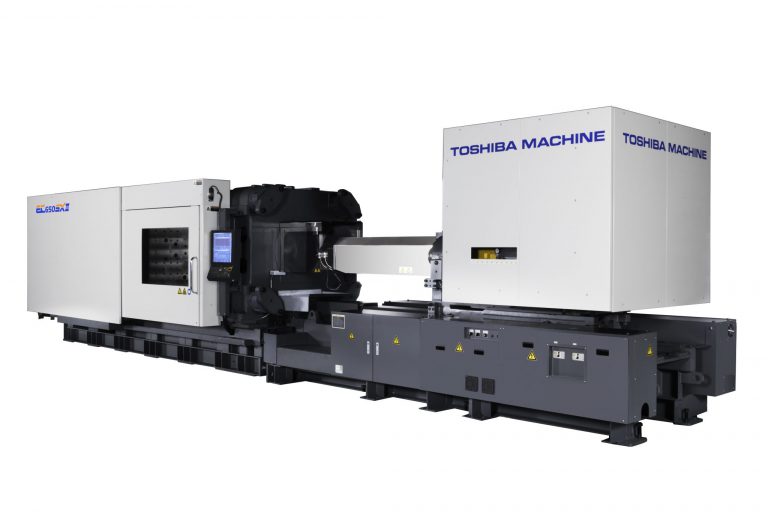 Benefits
Similarly to their machines under 3,500 kN, Shibaura's larger machines also benefit from their extremely high repeatability, through which production processes can be set closer to the critical boundaries of the product. This frequently results in products which have no flash, meaning that certain products which are impossible or extremely difficult to process with a hydraulic machine, can easily be produced with an electric Shibaura machine.
VERTALING HIERONDER MOET NOG GECHECKT – NL KLOPT NIET
Ook bij de grote machines geldt dat het energieverbruik van een volledig elektrische Shibaura Machine ongeveer 30% tot 40% t.o.v. een conventionele hydraulische spuitgietmachine is. Energie besparingswaarden van ruim 60% zijn dan ook geen uitzondering.
Voor de machine afmeting vanaf 4.500 kN is hydraulische olie aanwezig voor het aanleggen van het spuiteenheid. Dus ook hier weinig onderhoud en geen lekkages.
Het niet aanwezig zijn van hydraulische olie resulteert vaak in een veel schonere productie omgeving dan bij de vol hydraulische machines.
Door het gebruik van echte servomotoren krijgt u een geruisloze productie met een extreem laag geluidsniveau.
Door het zo efficiënt omgaan met de elektrische energie is er geen enkele waterkoeling benodigd op motoren of schakelkasten. Watergekoelde circuits lopen altijd het risico op corrosie in het koelsysteem met de bijbehorende lekkages en kosten van te vervangen componenten.
Samenvattend het inzetten van vol elektrische machines
Een sterke reductie op de onderhoudskosten
Door de grote repeteerbaarheid van de Shibaura Machine zijn de opstartkosten van vaker lopende matrijzen veel lager door het niet onnodig moeten opbouwen van het spuitproces met veel minder afvalproducten tot gevolg.
Besparing op koelingsenergie voor de niet aanwezige olie en waterkoeling op motoren
Besparing op trafocapaciteit en leidingwerk in uw fabriek door het lage energieverbruik en aansluitvermogen
Rekenvoorbeeld energieverbruik Shibaura Machine, voorheen Toshiba Machine
Daar wij zelf nog geen machines boven de 6.500 kN bij onze klanten in productie hebben durven wij geen harde cijfers over energiebesparingen af te geven. De verwachting is wel dat dit aardig overeenkomt met de besparingspercentages van de machines tot 3.500 kN.  Een energiereductie van 50-60% ten opzichte van de bestaande hydraulische machines.
Grote sluitkrachten
Sinds jaren heeft Shibaura Machine de range al weten uit te breiden tot sluitkrachten van 25.000 kN. Deze machines lopen reeds over de gehele wereld en met goed resultaat. Een grote gebruiker zit in Italie en produceert onderdelen voor Italiaanse sportwagens met zeer hoge kwaliteitseisen.
Als u in de tab's niet de juiste informatie kunt vinden of een afspraak wilt maken neem gerust contact met ons op.